Gelatin-Free
Gluten-Free
Non-GMO
Vegan
Lion's Mane Mushroom Gummies (60 Count)
Feeling a little foggy lately? You're not alone. Millions of people experience brain fog and memory problems at some point. But don't worry, we've got the solution!
Our delicious blueberry and strawberry-flavored gummies are packed with 500mg of dual extracted Lion's Mane mushroom that may help support clarity, focus, healthy mood, memory, and overall cognitive performance.*
Try our Lion's Mane mushroom gummies today and feel the difference they make in your day-to-day life! Your brain will thank you.*
For every product sold, we make a 1-for-1 donation to Vitamin Angels to reach a pregnant woman or child with life-changing nutritional support.
Jumpstart your day with these brain health-supporting gummies. Each delicious gummy contains the extract of 500mg† of Lion's Mane mushroom, one of nature's most impressive ingredients to support healthy cognitive function.*

Studies have shown that Lion's Mane may support clarity, focus, and memory. Lion's Mane may also support healthy mood and energy, normal immune function, and a healthy inflammatory response from exercise.*

†500mg of 2:1 Dual Extracted Lion's Mane Mushroom Per Gummy Equivalent to 1000mg Dry Lion's Mane Mushroom Per Gummy
Supplement Facts

Serving Size 1 Gummy (4g)

Servings Per Container 60

Amount Per Serving
%DV
Calories
Total Carbohydrate

Total Sugars

Includes 3g Added Sugars

6%**

Sodium

Lion's Mane Mushroom Extract

(Hericium erinaceus) (Fruiting Body)

** Percent Daily Values (DV) are based on a 2,000 calorie diet.

†† Daily Value (DV) not established.

Other Ingredients: Glucose Syrup, Sucrose, Water, Pectin, Citric Acid, Anthocyanins (for color), Sodium Citrate, Natural Flavors, Red Radish (for color), Vitamin E Acetate, Carnauba Wax, Vegetable Oil.

†500mg of 2:1 Dual Extracted Lion's Mane Mushroom Per Gummy Equivalent to 1000mg Dry Lion's Mane Mushroom Per Gummy
As a dietary supplement, adults chew one gummy daily or as recommended by a healthcare professional. Chew thoroughly before swallowing.

Warning: Do not use if the safety seal under the child-resistant bottle cap is broken or missing. If you are pregnant, nursing, have existing medical conditions, or are taking any prescription medications consult your physician before use. Discontinue use and consult your physician if any adverse reaction occurs. Do not exceed recommended dose.

For adults only. Keep out of reach of children.

Store at room temperature, tightly closed. Avoid excessive heat and direct sunlight.

Our gummies have a three-year stable shelf life from the manufacturing date that is listed on the bottom of your bottle.

Due to the use of natural colors and flavors, the color and taste of the gummies may change slightly during their shelf life.
Subtle, But Effective!
I love this as a daily supplement. My moods are more stable, and I am a much happier person. I highly recommend these gummies!
Dena R.
Verified Buyer
These Gummies Are Great!
As an artist/musician, these give me the clarity and energy needed when performing in the studio. Plus, they taste delicious!
Shaheed B.
Verified Buyer
This Stuff Is for Real!
It's been about 2 weeks since I started, and the focus factor is great! I've also noticed that my caffeine use has decreased as well.
Nickolas W.
Verified Buyer
Find Your Focus with Your New MANE Squeeze, Lion's Mane.*
Why Lion's Mane Mushroom?
Lion's Mane is a functional mushroom with a long history of use in traditional Chinese medicine to help improve memory, enhance cognitive function, and promote nerve and brain health. And now, you can get all the benefits of Lion's Mane in a delicious, easy-to-take gummy form!*
These little gummies are packed with BIG benefits. Not only do they taste great, but they also may support healthy mood and energy, normal immune function, and a healthy inflammatory response from exercise.*
So whether you're looking to ace that upcoming test or presentation, or just looking for an edge in your everyday life, our gummies can help you achieve your goals.*
Enhanced Clarity and Focus*

Lion's Mane may support brain health and focus by stimulating the creation of two important brain proteins.*
Lion's Mane is best known for its cognitive-enhancing benefits, but research indicates it may also help improve mood.*

Lion's Mane has been shown to increase energy due to its naturally occurring antioxidants and polysaccharides.*
Lion's Mane has been shown to support normal immune function by increasing the activity of the intestinal immune system.*
Lion's Mane has garnered considerable amounts of attention for its brain-boosting benefits, particularly in memory.*

In a double-blind study, researchers found that supplementing with Lion's Mane resulted in improved memory and cognitive function, provided it's taken consistently.*
Better Lion's Mane for Better Brain Health*
Many mushroom supplements on the market use cheap mycelium or lab-grown mushrooms cultivated on grain, resulting in a lower-quality product. However, at Fungies, our Lion's Mane gummies use only the fruiting body from mushrooms naturally grown on healthy hardwood trees.
At Fungies, we aimed to create a nutritionally rich and delicious gummy supplement that worked and was enjoyable to take. We spent nearly two years perfecting our Lion's Mane Mushroom Gummies to provide a high-quality, efficacious, and tasty experience!*
Our gummies are manufactured in a state-of-the-art, FDA-registered, cGMP certified, and allergen-free facility. In addition, all of our gummies are 3rd party tested for heavy metals and other contaminants.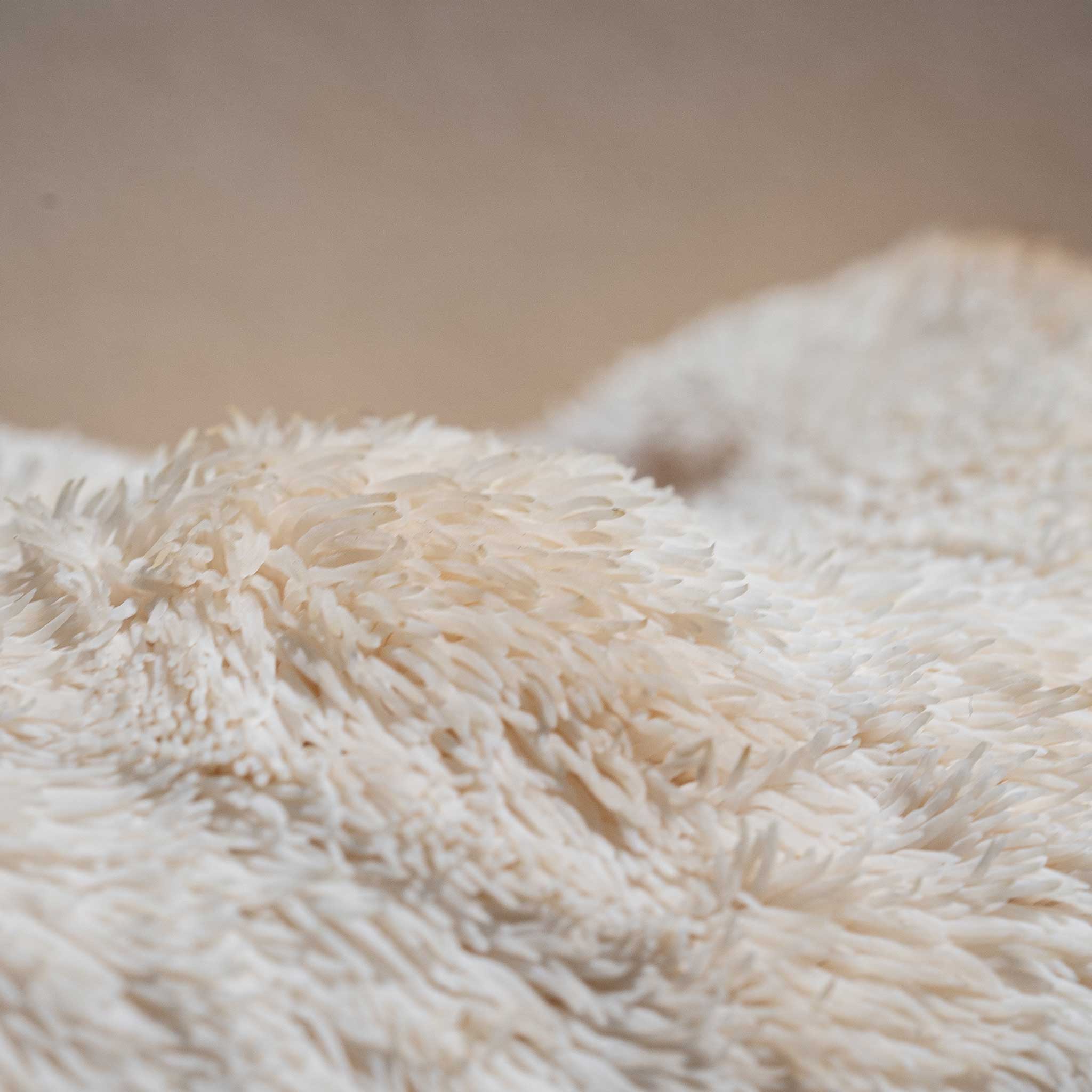 Vegan-Friendly
Unlike most gummies on the market made from animal-derived gelatin, our gummies are made with pectin, a water-soluble fiber found in fruit, making them vegan-friendly.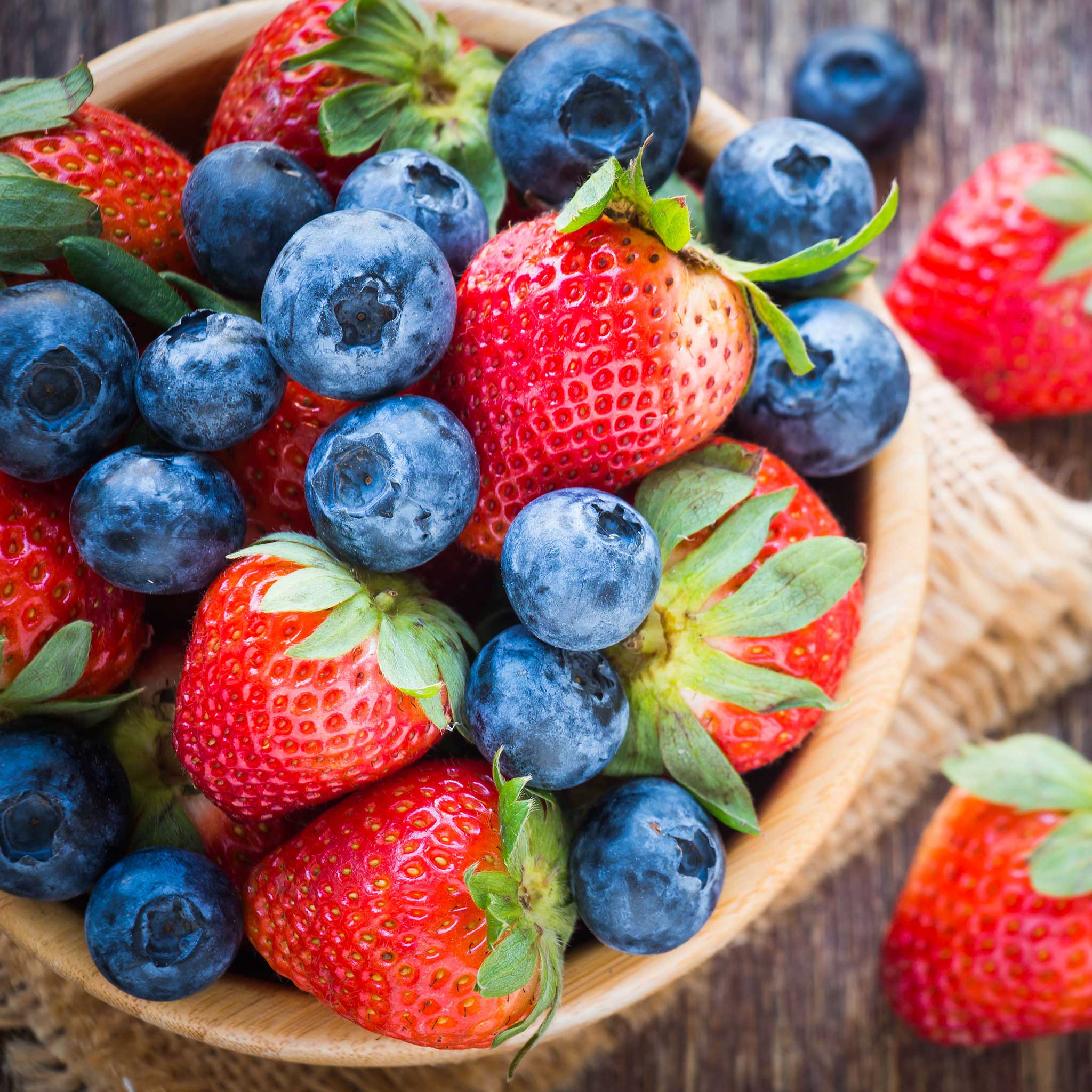 Flavored By Nature
Each yummy gummy is naturally flavored with delicious, sweet, and juicy blueberries and strawberries. They're so good that you'll forget you're eating mushrooms!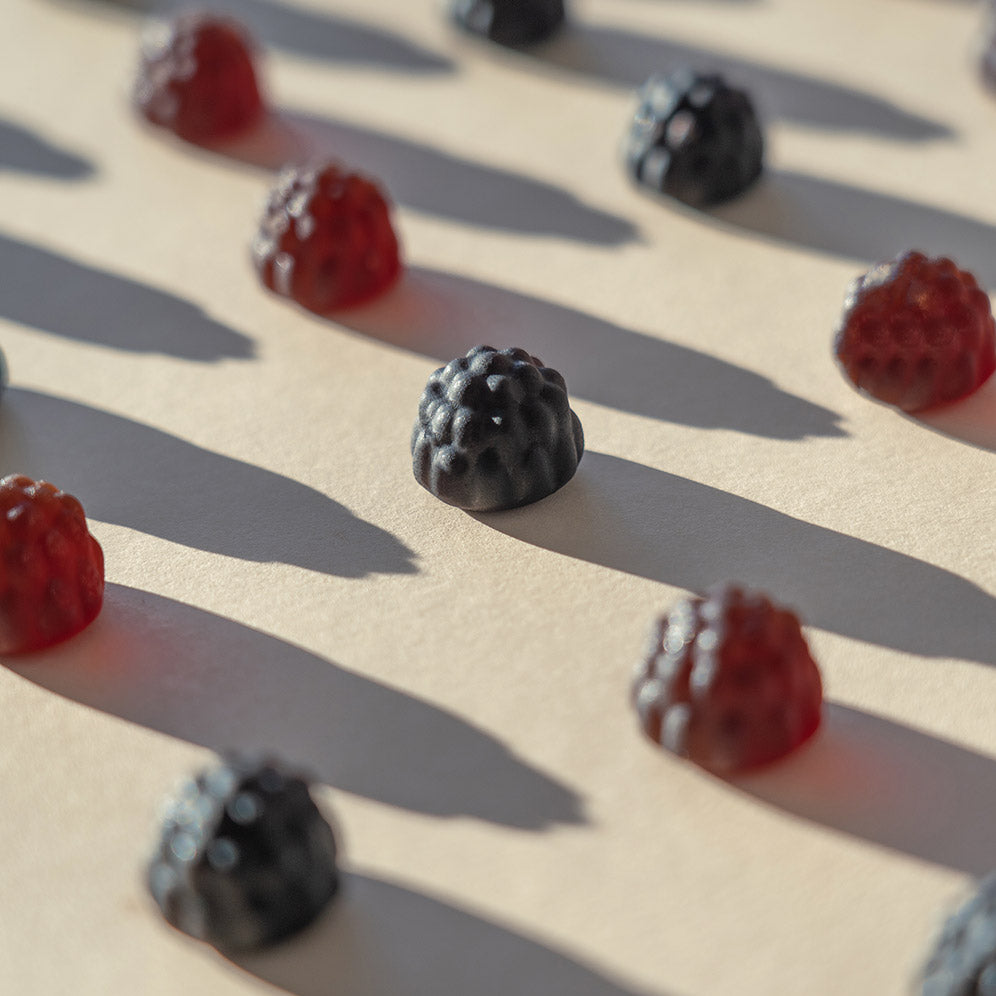 No Artificial Dyes
Blue No. 1 and Red Lake 40? We'll pass! Our gummies are free of harmful, artificial dyes and are colored with natural anthocyanins and red radishes.
Fungies vs. Other Mushroom Gummies
At Fungies, we pride ourselves on crafting the most effective and high-quality Lion's Mane Mushroom Gummies. Our unwavering commitment to quality and excellence distinguishes us from other brands, ensuring we consistently meet and exceed our own high standards.
50-150mg or Proprietary Blend
Yummy, Natural Fruit Flavors
Pectin-Based Vegan Gummies
Animal-Based Gelatin Gummies
Our Gummies Do Not Contain:
Yeast, wheat, milk, eggs, gluten, soy, gelatin, peanuts, shellfish, dairy, artificial sweeteners, colors from artificial sources, artificial flavors, or artificial preservatives.
Answers to All Your Questions
What Are Functional Mushrooms?

Functional mushrooms refer to those varieties that have a health benefit beyond providing nutrition. These mushrooms have been found to help support overall health and well-being in one way or another.*
Are Functional Mushrooms Legal?

Yes! Functional mushrooms have been used in traditional medicine for thousands of years. Functional mushrooms are not psychoactive or illegal and do not possess any "mind-altering" effects.*
Dual extraction is a process used to extract the beneficial compounds from Lion's Mane mushrooms (Hericium erinaceus) using both water and alcohol.

Dual extraction involves soaking the lion's mane mushrooms in hot water to extract water-soluble compounds such as polysaccharides and beta-glucans. Then, the same mushrooms are soaked in alcohol to extract the alcohol-soluble compounds such as erinacines and hericenones.

The water extract and alcohol extract are then combined to create a "dual extract" that contains a broader range of beneficial compounds than either extract alone.
Do You Third-Party Test Your Gummies?

Yes! Our gummies are tested by SGS Chemical Solutions Laboratories, Inc. for the presence of heavy metals and contaminants to ensure product safety and tested by Delta Labs to validate the accuracy of the composition indicated on the label.*
How Long Before I Notice Results?

Great question! Everyone is different, but most people notice results in 10-14 days (some sooner).

We recommend taking our gummies consistently for at least one month for the best results.*
Should I Take These Gummies With Food?

You can take these gummies with or without food.
Carnauba wax is a natural, non-toxic, and hypoallergenic coating used for our gummies.*
What Flavor Are These Gummies?

These yummy gummies are a delicious blueberry and strawberry flavor.
Are Tiny Bubbles in Gummies Normal?

Yes! During manufacturing, the continuous production and transfer processes can cause tiny bubbles in the gummy syrup, which may also be in the finished gummy or on its surface. These bubbles do not affect the quality or efficacy of the gummy.
Are White Film and/or Cracks on Gummies Normal?

Yes! This is a result of crystallization, a normal phenomenon for pectin gummies. This white film and/or cracks does not affect the quality or efficacy of the gummy.
How Do Subscriptions Work?

When you purchase a subscription, you'll receive repeat deliveries.

These are based on the subscription duration and frequency that you select.

Your payment details will be stored securely, and you'll be charged for each of these deliveries unless you choose to pay in advance.

Your subscription will automatically renew, and your credit card will be automatically charged the subscription price at the interval selected on each line item until you cancel your subscription.

Your credit card will be charged the price on the website the day of the renewal, less 20%.

If you want to cancel or change your subscription, you can do it at any time.

Discount codes cannot be used on subscription products.
Try It, Risk Free!
If you're not satisfied with your gummies, simply contact us and we'll give you a full, 100% hassle-free refund.
Get Your Gummies
The #1 Choice For Lion's Mane Gummies
See Why Thousands of Customers Trust Fungies
Totally Helps With Focus And Stress
"I love these gummies! They help me focus and not get as distracted I feel like my brain is not as foggy and its easier to think and not stress, seriously amazing product!"

- Teresa G. | Verified Buyer
Amazing Taste And Benefits For All Families
"Words do not do these mushroom gummies justice, they are definitely something all families will enjoy. From their amazing taste to their healthy benefits I can say enough good things about them, if you haven't you've definitely got to give them a whirl!"

- Sarah E. | Verified Buyer
"Having read about the benefits of lion's mane mushrooms, initially, I tried Fungies with a little skepticism, as I do with all "new" things having to do with natural health products, My aim was to improve my focus and general mental acuity. On those fronts, Fungies has delivered. I have noticed a positive difference, even after only a week of starting to take them, much to my surprise."

- Stephen B. | Verified Buyer
This product is rated 4.8 of 5.0 stars.
It has received 259 reviews.
Total 5 star reviews: 221
Total 4 star reviews: 32
Total 3 star reviews: 3
Total 2 star reviews: 2
Total 1 star reviews: 1
98%
would recommend this product
Customer-uploaded media carousel. Press left and right arrows to navigate. Press space or enter to open more details.
Slide 1 selected
What Is Your Gender?

Female

How Many Times Have Your Purchased?

1

since taking these gummies i have noticed an increase in my energy, both mental and physical !

these gummies are delicious ! I originally bought them with my grandson in mind, but have been taking them myself and i have definitely noticed an increase in mental and physical energies !

What Is Your Gender?

Male

How Many Times Have Your Purchased?

2

Wellness Concerns

Energy,

Stress,

Focus,

Immunity,

Mood

Fungies gummies are honestly helping me

Fungies gummies are honestly helping me feel better with my overall mood and clarity

What Is Your Gender?

Female

How Many Times Have Your Purchased?

3+

Wellness Concerns

Cognitive Health,

Sleep

What Is Your Gender?

Male

How Many Times Have Your Purchased?

Subscription Customer

Wellness Concerns

Focus,

Cognitive Health

Mental clarity

I like taking a couple gummies first thing in the morning to focus my mind on the work I am about to engage in and it helps me no matter what I indulge in the night before. 😏

What Is Your Gender?

Female

How Many Times Have Your Purchased?

Subscription Customer

Wellness Concerns

Focus,

Mood,

Cognitive Health,

Stress,

Immunity

Great product

I feel like I feel different! The flavor is great. Price is good too.
Reviews Loaded
Reviews Added